Hive Neös 1000cc Beginnerspakket Voor Ontharingen
GRATIS CHAMPAGNE BIJ AANKOOP VAN €135
Om in aanmerking te komen voor deze actie, voegt u voor €135 eenheden toe aan uw winkelmandje en vervolgens vanuit het pop-upvenster:
1. kies gratis item
2. klik op 'selecteer als bonus'
3. klik vervolgens op 'selectie toevoegen aan winkelmandje'
Controleer of uw gratis artikel(en) aan uw winkelmandje zijn toegevoegd voordat u doorgaat met betalen.
BESPAAR €10 MET DE CODE DEC23
Besteed €50 of meer en bespaar €10 voor de hele site. Gebruik code DEC23.
Geldig van 1 December tot en met 1 Januari 2024.
Andere uitzonderingen kunnen van toepassing zijn.
BESPAAR €10 MET DE CODE NEW23
Geef de code NEW23 in bij het afrekenen
Aanbod enkel geldig voor nieuwe klanten
Alle voorwaarden door op deze link te klikken
Overzicht
Neös Waxverwarmer 1000 cc
1 x natuurlijke honingwas 800g
1 x reinigungsspray 200ml
1 x lotion voor na het waxen 200ml
1 x uitrusting schoonmaakster 400ml wegwerpspatels voor het waxen (100)
waxstrips op flexibel papier (100)
Beschrijving
Das perfekte Paket, um mit Wachshaarentfernungsbehandlungen beginnen zu können. Es enthält alle notwendigen Produkte zu einem hervorragenden Wert. Ideal für angehende Kosmetiker & professionelle Therapeuten. Inhalt: 1 x neös 1000cc Wachserhitzer 1 x natürliches honigwachs 800g 1 x reinigungsspray 200ml 1 x after wax pflegelotion 200ml 1 x gerätereiniger 400ml wachs-spatel für den einmalgebrauch (100) Flexible Papierwachsstreifen (100)
Gebruiksaanwijzingen
Neös Waxverwarmer 1000 cc Zie handleiding natuurlijke honingwas 800g:
GEBRUIKSAANWIJZING: Controleer de temperatuur van de was en verspreid een dunne laag op het gebied dat u wilt ontharen. Plak de wasstrip en verwijder deze snel tegen de richting van de haargroei. Wij raden je aan HIVE® Pre en After Wax behandelingsproducten te gebruiken.
ALLEEN VOOR PROFESSIONEEL GEBRUIK espray de limpieza 200ml
GEBRUIKSAANWIJZING: Breng aan op het te behandelen gebied, verwijder eventuele restanten met watten of een droge tissue. We raden aan om HIVE® Pre and After Wax Treatments te gebruiken. loción de post depilación con cera 200ml
GEBRUIKSAANWIJZING: Royaal aanbrengen na het waxen en voorzichtig in de behandelde zone inmasseren. limpiador de equipos 400ml
GEBRUIKSAANWIJZING: Gebruik een zachte doek en spuit het schoonmaakmiddel onverdund op het oppervlak. Wanneer er veel wax gemorst werd, spuit u overvloedig product op het oppervlak, laat het een paar minuten inwerken en veegt het dan af.
Ingrediënten
Natural Honey Wax 800G: Glyceryl Rosinate, Colophonium, Paraffinum Liquidum (Mineral Oil)
Pre Wax Cleansing Spray with Tea Tree & Camphor: Aqua (Water), Alcohol Denat. (Alcohol), Polysorbate 20, Camphor, Citrus Limon (Lemon) Peel Oil, Melaleuca Alternifolia (Tea Tree) Leaf Oil, Parfum (Fragrance), Limonene, Phenoxyethanol, Triethylene Glycol, CI 19140 (FD&C Yellow No.5), CI 42090 (FD&C Blue No.1)
After Wax Lotion with Tea Tree & Camphor: Aqua (Water), Paraffinum Liquidum (Mineral Oil), Glycerin , Sorbitan Stearate, Stearic Acid, Petrolatum , Cetearyl Alcohol, Simmondsia Chinensis (Jojoba) Seed Oil, Aloe Barbadensis (Aloe Vera) Leaf Juice, Triethanolamine , Cocos Nucifera (Coconut) Oil, Melaleuca Alternifolia (Tea Tree) Leaf Oil, Menthol, Camphor, Parfum (Fragrance), Limonene, Phenoxyethanol, Triethylene Glycol
Wax Equipment Cleaner: C11-12 Isoparaffin
Waarschuwingen
Natuurlijke honingwas 800g reinigungsspray 200ml lotion voor na het waxen 200ml LET OP: Alleen voor uitwendig gebruik. Vermijd oogcontact. Buiten bereik van kinderen houden. uitrusting schoonmaakster 400ml VOORZICHTIGHEID: Kan sommige stoffen beschadigen. Vóór gebruik uitproberen op een testoppervlak. WAARSCHUWING: ONTVLAMBAAR. Uit de buurt houden van warmtebronnen, open vuur en hete oppervlakken. Bij inslikken onmiddellijk medische hulp inroepen. Geen braken opwekken. Vermijd contact met de huid, onmiddellijk wassen wanneer contact optreedt. Roep medische hulp in wanneer irritatie optreedt. Damp niet inademen. Gebruik een nieuw doekje voor elke behandelde zone. ALLEEN VOOR PROFESSIONEEL GEBRUIK
Recent bekeken producten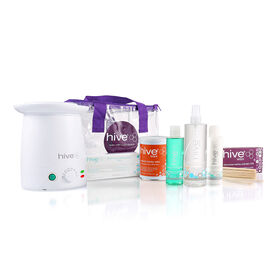 <ul> <li>Ne&ouml;s Waxverwarmer 1000 cc</li> <li>1 x natuurlijke honingwas 800g</li> <li>1 x reinigungsspray 200ml</li> <li>1 x lotion voor na het waxen 200ml</li> <li>1 x uitrusting schoonmaakster 400ml wegwerpspatels voor het waxen (100)</li> <li>waxstrips op flexibel papier (100)</li> </ul>